Interviews
Pete & The Pirates – Interview
Vor ein paar Tagen wagten Pete & The Pirates aus Reading ihren ersten Abstecher nach Münster. Neben einem tollen Konzert gab uns Sänger Tom auch noch ein nettes Interview, in dem er verriet, was die Band in den letzten zwei Jahren seit unserem letzten Gespräch erlebt hat, wie die Arbeiten am neuen Album laufen und vieles mehr. Das Interview zur Abwechslung einmal wieder auf Englisch, man muss die kleinen grauen Zellen ja auf Trab halten :)
It's two years now since we last met. Please give us a quick update on what Pete & the Pirates have been up to.
Is it really that long? We've been having lots of fun and working very hard. Not much resting though. It certainly has been a long time between these two records – we actually recorded the whole second album ages ago, but decided not to use any of it as it didn't sound like us. We've experienced lots of very good shows, and some great traveling experiences, and now we have a new album which we are all so pleased with.
We also talked about Maximo Park the last time and then last year you toured BENELUX with them (review from Brüssel). How did that go down? Would you say there's a close bond between you two?
Touring with Maximo Park was great for the simple reason that they are all really nice boys, and they like to go out and be silly like we do. There's nothing worse than touring with a band who think they are above you, who are boring and unfriendly. Politics between bands can be quite amusing. Lots of bands are actually quite shy with each other, which is interpreted as arrogance or indifference. Better to just say 'Hello!'
Your second album is almost finished now. How much will it differ from your debut? Does it already have a title?
There's no title yet. The actual songs are not a huge departure from Little Death but the way they sound is quite different because of the way we recorded them. It was all done live, including the vocals, with a view to capturing the energy of a gig.Have there been any new influences for you, comparing to the first record?Mostly just the desire to sound more like a band from the earlier days of recording where it really did feel like a group of boys playing together. Sometimes we felt the first album needed a bit of nature put back into it – we corrected too many mistakes, or tried much to hard to play that guitar part perfectly. That's not what being in a band is about.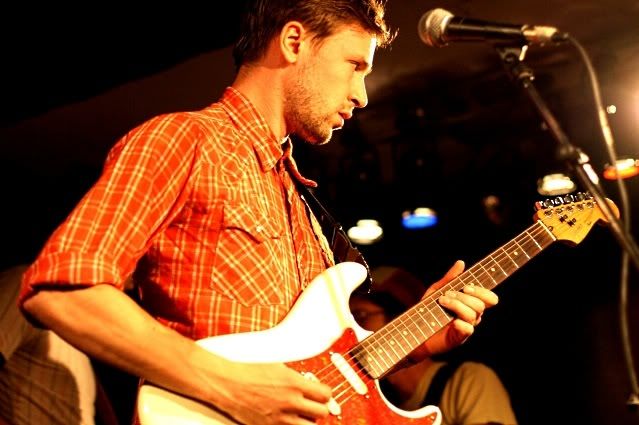 Tom, you released a record under the name Tap tap. In other projects how important is it for you and the others to live out your creativity?
There's plenty of free time between touring, recording, etc where the only thing I really know how to do is to keep making music, and I'm so in love with the recording process that it only seemed natural that a solo album would emerge. Everyone in the band is doing little bits and pieces, like remixing, co-writing, side projects etc. I think it's quite healthy and ultimately always channels back to Pete and the Pirates.
It was released on Stolen Recordings. I don't think they put any pressure on you releasing an album in a certain span of time?
No, that is one of the great benefits of being on a truly independent label. The quality of the music is paramount, and the label should let the artist take as long as is needed to create something that is the best it could possibly be. It's such a shame when money hungry labels pressure bands to release albums when the songs just aren't ready. Those albums are always such an embarrassment, people can see through the lack of songs.
Do you think that being signed to an indie label helped your band more, even though they can't support you financially and promotion-wise, like a major could?
Well there is no major label on the planet which would have picked our band up the way we sounded when we started out. We couldn't sing or play our instruments at all well, but Stolen Recordings I think must have seen through the lack of musical perfection to something else which was a bit raw and weird which they liked. It's so encouraging to a young band who are just doing their own thing regardless of whether people like it, to have someone come up and say 'Hey we think you're great, we'd like to sign you… we don't have tonnes of money, but we'll help you get a record out'. We have friends who have been completely fucked by major labels, and it makes you quite angry and sad. We're lucky because we have a very good, fair deal and we don't owe our label a penny!
You played a lot of sessions, like They Shoot Music, Bandstand Busking, Amsterdam Acoustics and Black Cab. Are there any, you still would like to play? What do you enjoy most about these kind of sessions?
Well…. we just play whatever people ask us to play! It's easy and fun to just pick up a guitar and play a couple of your songs in an environment that you wouldn't normally be in, or using instruments that you don't normally use.
Fotos: Ariane WhiteTapes, mehr hier