Rezensionen
This Will Destroy You – Tunnel Blanket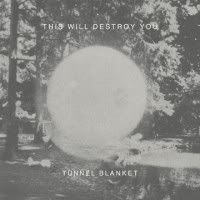 This Will Destroy You hail from Texas, USA. They specialise in writing music that can be soothing, tender and pretty, which can then explode into an angry guitar and drum assault, or wall of noise, or drone of e-bow which can drown out the tracks. Live, they are an intense act who play very loudly and powerfully, and it's usually advisable to go to watch them with a set of earplugs safe in your possession. They make no apologies for constructing their huge wall of sound, and why should they? Debut LP, 'self-titled', allowed the band to display their powerful brand of rock inside of 52 minutes, just 7 songs long. It was released through Magic Bullet Records, and for new record 'Tunnel Blanket', Jeremy, Dono, Chris and Alex have now signed to Monotreme for Europe, and Suicide Squeeze for the rest of the world. So, is their music 'noise terrorist', or is there more to it?
'Tunnel Blanket' – as guitarist Chris explains: 'a metaphor for death' – is a darker, more ominous record than both self-titled and the previous demo / EP 'Young Mountain'. Opening track 'Little Smoke' starts extremely calmly, with a layer of gentle guitar chords and a keyboard playing a simple, repetitive melody for a few minutes, before the track slows, stops, and dramatically comes to life, with thrash-guitars, drums and bass all crashing into each other and gradually building to what is possibly the loudest track the band have recorded. It really does get furious, but after 6 or so minutes of this ferocity, the track ends with the same beauty as the intro, but this time with a guitar accompanying the keyboard, which wails occasionally with the melody, sending the track to its closure. It's a bold, fierce and beautiful opening to the LP.
Next track 'Glass Realms' is a relaxing, slow burning song, building waves of melody with guitars and synths; just building and building before coming to an eventual closure after 6 and a half minutes. It's feels like the calm after the storm of the opening track and sounds very impressive. The dark side of the album is revealed again with 'Communal Blood', which again begins slowly and in a more sombre mood, before again returning to a loud, brash, crash assault of drums and guitar, showing density and raw power. This track doesn't pack the same weight as the opening track, but it shows a fairly brutal take on the mid section of the song. It sounds like the most sombre and serious thing the band have ever recorded in certain sections. It's not a particuarly enjoyable listen as a result, as there is a sense of real foreboding to the music which does not mark out the theme of the album – death – as anything to welcome with peace and calm in your heart.
'Reprise' again sets the scene: a drone of noise and extended guitar waves, though not similar to 'Glass Realms'; this one is not peaceful, and seems to be intent on keeping the aftershocks of 'Communal Blood' swirling around longer before 'Killed The Lord, Left For The New World' begins. This track features interesting percussion and guitar lines, as well as acoustic guitar and layers of sound, and is a highly enjoyable song on the record. On 'self titled ' the band experimented with similar sounds, but this time this track feels more polished, with sprinkles of xylophone present as the song takes its waves and dives. It's again very beautiful, and has some samples of speaking underneath (like children singing a song in time with the kick drum), before a marching drum beat comes in and leads out the last three minutes upon another heavier wave of layered guitar drones. An excellent song, which really works on the record.
'Osario' is another drone, with guitars ebbing and flowing without reaching a distortion in a similar vein to the 'Reprise', with a simple kick drum pattern keeping time. This eventually gives way to 'Black Dunes', which is another 8:15 of foreboding melodies… it again sounds very dark and carefully constructed. The drums begin lightly, striking a snare every five beats, and the guitar plays out a lamenting single lead line melody, drenched in reverb;  the bass follows simply. Again the mood is unsettling, and strangely dark and beautiful, but the eventual aggression eventually shows itself on the 3:30 mark, when the track again raises itself to loud, pounding, crashing drums, and distorted guitar in one speaker, and that same morose lead line continuing in the background, this time with more purpose and drive, behind the wall of noise. Another guitar plays a high melody over the top of this, creating another powerful layer, eventually bringing the whole track to a loud, powerful mass of sound, on a similar level of intensity to the opening track 'Little Smoke'. The sense of release when this track does pick up and drop to rock is enjoyable, and you can hear that the band are becoming even more adept at creating this pretty, quiet / brash, loud sound, which so many bands of a similar vein do with some style (for example, Explosions In The Sky and Mogwai). However, the attention to creating droning walls of noise and layers of melody that only sometimes explode is what separates This Will Destroy You from these bands. You get the sense that they are not just happy with creating a wall of aggressive noise; they love a melody, and love to share it, despite how dark their material can be on this particular release, and they show real patience at creating their sounds without letting anything too complicated getting in the way.
Album closer 'Powdered Hand' (with its references to death, mortuaries, etc. you can take from the title), again uses the keyboard to create a calming, peaceful melody, and drums are quiet and supportive. The guitar begins to build the drone around 2 minutes in, and vocal loops again feature, warbled with delay, in what sounds like an American man or woman giving a speech on something that is worked into the music. It gives the close of the album a feeling of acceptance of death as a natural thing not to be feared, and shows the bands sense of composure in crafting soundscapes to be again very strong in this emotional listen.
Initially, having listened to this record, a cold feeling overcame me which left me feeling quite numb, like the feeling of losing a loved one. Only on further involved listens I realised that this is This Will Destroy You forming a more calm, measured and sonically moving record. It builds on the sound the band have formed on past releases, but adds a layer of beauty, compassion and a new level of fierceness to their sound. It comes highly reccomended. Check out the video of 'Black Dunes' below.
Rating:

This Will Destroy You