Rezensionen
Rival Consoles – Kid Velo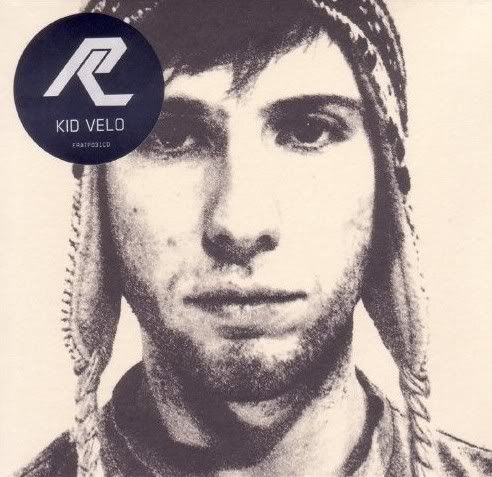 Rival Consoles: IDM; Dance; Electronica. Now? It's funky; it has big beats, even dare i say, it contains some pop. This London, UK-based artist is Ryan L. West, purveyor of 'intelligent dance beats', and he was born in the 80's. Ryan has a new baby – a huge, gleaming, synth-laden new record 'Kid Velo', his second full album release after the debut 'IO'. It marks a close partership with Berlin-based Erased Tapes Records.
'IO', a fantastic debut LP showcasing his approach to the electro/IDM genre, is built upon in 'Kid Velo'. 'IO', though, was a record that certainly followed the well-travelled path of 'electronica' but managed to approach it and sometimes add a new twist, on occasions. There are moments of real freshness in the genre of electronica to 'IO', and it should be visited if you have not yet done so. Still remaining on this new record are those slick grooves, the expert production (Ryan has also recently moved into mixing and mastering other artist's work), and of course the meticulous attention to detail.
What's new? Well, for a start the tracks are all absolutey full of killer hooks that seem designed to get you dancing, and layer upon layer of melodies and new sounds to keep the listener engaged. It's a bold, dramatic second LP. From the first grooves of title track 'Kid Velo', with its light drum pattern sounding like a warm up hand-clap, and the bleeping intro, you get a sense of impending change. When the kick drum and synth comes in, you notice that there is a certain amount more playfulness in the melodies than in 'IO'; clearly, Ryan has made peace with creating a big-beat pop/dance beast of an opening track. It's a statement of intent.  'Kid Velo' shows that there is no longer a sense of contentment with allowing a good groove or beat to remain on the stereo and just kick along. There is a growth on Kid Velo, and there was a growth on IO, but a less prominent growth. There are enough ideas in the opening track to mark it out as a highlight just 4:41 in.
'Into The Heart 1' comes next; another slick groove gives way to layers of synths before a mangled whispered vocal brings in the fuzz/overdrive. By the time the organ sound comes in on 2:45 and the constant kick drum drives this song to its conclusion, it really is noticeable how much fun this record contains. 'S.P.K.R.S' builds with creeky synths initially, and then plays with some cathedral organ synths which are attacked from left and right by kick drums and polished snaps. It kicks along, but it doesn't really show enough to warrant a 4:53 runtime. Therefore, when the broken speaker sound effect of the intro to 'Amiga' (the best track on the record) arrives, with it's glistening, warm synth and beat pattern, there is more to enjoy. This song is dance music for people that want their dance music to have an MA in Music/Technological Studies. It starts with all the hooks and melodies, before gradually winding down, and down, until it is just a murmur of synths and half time beats, before then speeding up over 32 bars to suddenly just stop, leaving behind only an isolated minor glitch-synth. The beat that follows is hard, and it relentlessly hammers home the 80's GameBoy sounds of the synth in the lead out, with morroring melodies to support and help the track grow. It really is euphoric material.
The crisp bullet shots of drums that bring in 'I Left The Party' leave this part of the record feeling initially uneasy; it sounds a little out of keeping with what has gone before. Eventually though the track picks up with sprawling, space-synths supporting the main melody, before again dropping to a more calm, measured pace. The distant sound of kids talking in the middle of the track, as it descends to a more sprawling and quiet approach, is eventually replaced with a melody that seems to nod at the 90's band Underworld. 'I Left The Party' manages to grow into a more traditional 'dance anthem' of sorts, with all the build-ups and come-downs: an anthem for the masses of people who were either around in those halcyon days of the clubbing scene, or those who discovered it too late and dream of what might have been. With 1:30 to go, it moves into this territory and it's quite unlike anything this artist has produced before.
The other real album highlight is 'Guitari'. This track starts with broken glass sound effect drums before bringing in the huge beat, and a noticeable bass-line and guitar strum sets the scene this time, before the synth sounds come in to overlay. The Transformers style 'owww' synth happens twice then brings around the stop, the build, the crunch and the return to beat, as the guitar is drenched in reverb and delay. This track grooves incredibly well, and is perhaps the most fluid track on the album as a result. The outro layers feature the guitar, the snyth, beats and what sounds like a xylophone tapping away happily with the melody. It's joyous.
'Rosenthal Road' includes some further whispered vocal noises, and is perhaps neccesary to break up the assault of kick drums the listener has endured thus far. 'I can't define this word: sanctuary' is spoken softly before merging into the Daft Punk-a-like melodies of 'Into The Heart 2'. Another guitar strum comes in to introduce the kick drum again, and we are back on a journey towards the end of the track; the synth Daft Punk type growl is again present. It's debatable whether 'Into The Heart 2' fits on the record, as the choice of synths seem absolutely out of sync with what has gone before, and the melody doesn't begin to hint at anything euphoric, and the track ends a little lifelessly. Pity. Last track 'After Ed' begins by introducing sounds of people walking around and 'the outside word', before the sprawling synth sound comes in over this… it's the comedown track, and marks the death of the record. It grows, adding delay and growl, before washing out leaving behind a fade-out to the record.
'Kid Velo', at no point, tries to be inaccessible to the listener, and Ryan may find the critics waiting in the wings, as his record places itself perilously in the grooves of dance, funk, house and electronica. However, bar a few weak moments in tracks, this album is littered full of killer synth hooks, dance beats and layer upon layer of sound. It takes the good from the debut record and replaces it with a more confident, more refined, and more imaginative offering. It is literally dripping with melody, and features a more crowd-pleasing collection of tracks that would not dissapoint a discerning dancefloor.
Rating:

Rival Consoles
Rival Consoles

Youtube direkt