Rezensionen
Perfume Genius – Learning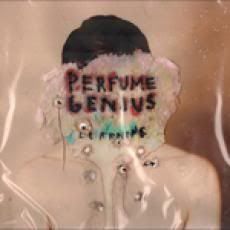 Es scheint so ein wenig das Jahr der Wunderknaben zu werden, zumindest durften wir mit Conor J. O'Brien, alias Villagers und Colin Caulfield, alias Young Man bereits zwei junge Erwachsene mit tollen Songs begrüßen. Mike Hadreas, alias Mike Genius, alias Perfume Genius reiht sich da nun auch ein. Ist euch aber natürlich nicht unbekannt, schließlich haben wir ihn schon mehrmals vorgestellt. Mit "Learning" ist nun auch sein Debüt-Album zu haben und so viel sei vorweg gesagt, es hält genau das, was die Gratis-Downloads versprachen. Wie auch Colin Caulfield machte sich Mike einen Namen über Youtube-Videos, mit denen er seine Songs vorstellte.
Neben vielen Fans zeigten sich unter anderem auch Los Campesinos! und der britische Guardian begeistert, irgendwann bekam auch Matador Records Wind von dem jungen Mann, der die geisterhaften Kompositionen von Bon Iver mit Texten über Zukunftsangst, Sex, Liebe und Tod zu verbinden weiß. Das alles aus der Sicht eines Twenty-Somethings, also genau ins Herz der Zielgruppe. Dabei strahlt er jede Menge Authentizität aus und wenn er da so traurig von leicht schrägen Klavierakkorden begleitet in "Mr. Petersen" singt

"He made me a tape of Joy Division
He told there was a part of him missing
When I was sixteen
He jumped off a building
Mr Petersen
I know you were ready to go
I hope there's room for you up above
Or down below",
möchte man ihm glauben, dass es diesen Mr. Petersen wirklich gab und dass er die zerbrechliche Teenager-Seele und vielleicht auch das Herz von Mike Hadreas berührt hat. Damit bilden die traurigen Texte, die leicht hintergründig hallende Gesangsstimme und das alte Klavier, auf dem Mike Hadreas spielt, eine herrlich zerbrechliche Grundstimmung, die über die leider nur 30 Minuten des Albums unheimlich fesselt und die Seele des Hörers berührt.
Rating:

Perfume Genius
Perfume Genius – Learning by TurnstileMusic
Learning – bei Amazon.de vorbestellen